Badger Books is taking a short break from Wed 19 June and returning Mon 22 July 2019. Orders and emails will be attended to when we return. Thank you.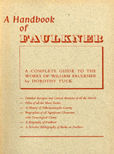 A Handbook Of Faulkner
Tuck, Dorothy
Synopses, history of Yoknapatawpha County, index of characters, short biography of Faulkner, and checklist of works.
Add to cart

$50.00
Publisher:
Chatto And Windus. First English edition 1965
Harold Oliver's ownership signature on front pastedown, edgewear, else fine in dustwrapper.
Other books in this category